Writers who are just starting their career in technical writing often wonder about the types of tools they would need in their writing stack. To help you with that, I am sharing my most go-to and must-have tool stack for technical writing.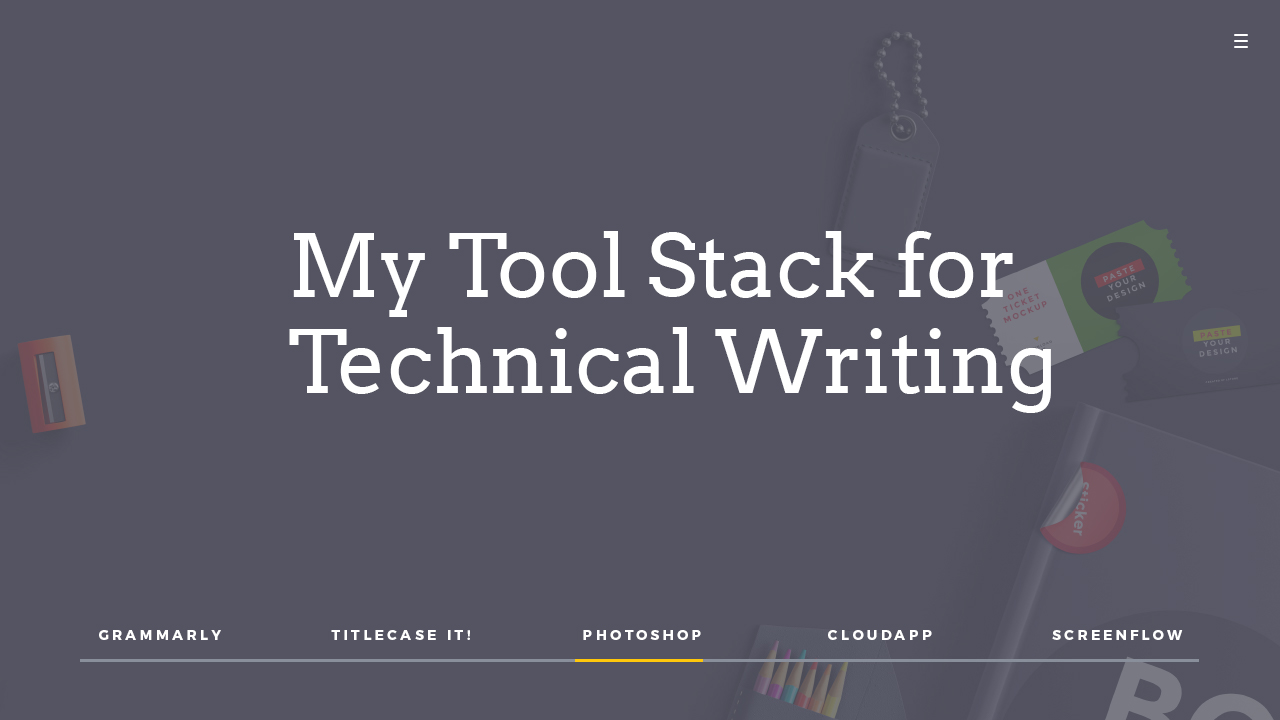 ---
My tool-stack for technical writing includes:
Grammarly
TitleCase It!
Photoshop
CloudApp
Screenflow
Let's learn a little about all of these…
1. Grammarly
As a technical writer, the Grammarly app helps me check grammatical errors with classic vocabulary enhancement & citation suggestions. Also, it takes care of plagiarism very well.
Technical writers can start right away with its free version. But if your budget allows then, I'd definitely recommend you upgrade to a paid account that offers more than 400 types of checks and features.
2. TitleCase It!
Some writers have a strong opinion about using title-cased headings, while others may not. I have a 50/50 opinion about it. Depending upon the weightage of content, I prefer to use title-cased headings.
So whenever needed, I use this amazing tool called TitleCase It! by Ahmad Awais. The best thing that I like about this tool is its simple layout and almost no hassle. Generally, tools like these bear a heavy interface making the process look difficult.
With TitleCase It!, all you have to do is copy/paste the title and then click the button to copy the title-cased heading in the clipboard.
3. Photoshop
For all kinds of image editing and illustrations, I use Adobe Photoshop. My most favorite tasks include image enhancement and optimization for an appropriate size and quality.
Furthermore, I ensure that all my images are consistent in canvas size with a uniform bleeding space around them. Photoshop helps me achieve all of that in a jiffy!
In addition, I have this newfound love for Figma. I am toying around with it for quite some time and the entire experience is incredibly great. Having second thoughts about shifting to Figma from Photoshop. If that's the case, I'll update you about my experience.
4. CloudApp
Technical content has loads of screenshots for code snippets and setting menus. Over the years, I had a chance to try several screen capturing software and tools.
It's been quite some time since I am using this incredible tool called CloudApp. It eases away this process with a hassle-free screen capturing experience, quick GIF and video recording, along swift image annotations.
Quite recently, I came across this yet another amazing piece of tool for screen capturing. It's called the CleanShot X. So far the experience is super dope but still figuring out whether to stick with it or not.
5. ScreenFlow
For advanced screen recording and video editing, I use ScreenFlow hands-down. It's easy to use, intuitive, and super versatile in recording from multiple sources simultaneously.
Final Words!
I am sure that these 5 tools will help you get started or improve your technical writing skills. My writing tool stack keeps updating over the years. But for now, this works reasonably and aligns very well with my writing workflow and productivity. Chances are that I might find better solutions for this, and if it happens I'm definitely going to share the update with you folks.
Till then please feel free to share your feedback and post in your queries below. You can also, reach out and follow me through my Twitter account.
Also, read 3 Projects To Have in Your Technical Writing Portfolio